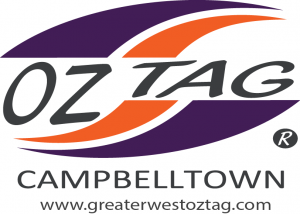 CAMPBELLTOWN OZTAG
SUMMER 2021
VICTORIA PARK, MINTO
SUMMER 2021 COMPETITION UPDATE – 27/09/21
With the Government's announcement today that community sport would return once 80% double vaccination was reached in NSW and with that day anticipated to be 25thOctober, it's time to start organising your Oztag team.
At this stage we have NO information on whether people will need to be vaccinated to play, as soon as we have information on this we will provide it. However, we will comply with NSW health Orders.
Senior Competitions: We are offering a 10 week competition which will break over the Christmas / New Year period (4 weeks). NO FINALS SERIES WILL BE PLAYED. Winners and Runners Up will be awarded on the final round. Competitions will commence the week beginning 1st November 2021 and finish the week beginning 31st January 2022 (weather permitting).
All registrations will be managed online. Registrations will open 1st October and will close 22nd October allowing time for the competition to be set up for kick off early November.
FULL TEAM REGISTRATION to be finalised by Friday 22nd October. No late registrations will be accepted once Round 1 game times have been released.
ACTIVE KIDS VOUCHERS ARE ACCEPTED
Mixed 20's & Men's 20's divisions will be offered again – Players must be 15+ years and cannot turn 21 in 2021
***CONDITIONS OF ENTRY*** Please inform all players in your team.
Cost is $90.00 per player (men's and mixed teams). $80.00 per player (women's & U20's teams) per team.

Active kids vouchers are accepted and can be redeemed online.

Teams must have a minimum of 8 registered players, there is no maximum number.

Players must already be 15 years old to play in an adult competition
If you are playing in two teams on the same night please advise Helen so she can do her best to make sure your games don't clash, however due to the increasing number of clashes we can't guarantee it.

If you are playing in 2 teams in the same division players must nominate which team they will play in when they verse each other, players can't swap teams during the game.

Player registrations close Rnd 4 of the competition. Teams are not permitted to register any new player from Rnd 5 onwards.

Full team payment must be finalised on or before round 2. If teams aren't financial by the end of round 2 they will lose all competition points to date. Points will not be re-instated. Teams won't receive competition points until full team payment has been made.

Team uniform – players are required to be in a team uniform Rnd 4 (same colour / style top with a number on the back). Muscle T's (large cut out underarms) are not allowed. IF PLAYERS ARE NOT IN UNIFORM THEY WILL NOT BE PERMITTED TO TAKE THE FIELD. No exceptions
LOSS OF INCOME INSURANCE – OPTIONAL ADDITIONAL COVER
The current cover you have under your Associations covers you for death (inc permanent disability) and non-medicare medicals (i.e physio, dental etc)
It does not however include loss of income cover.
You can now purchase 'Loss of Income Insurance' for your team at a low cost of $99.00 (incl GST). This can only be done on a team basis not individual.
You can purchase this additional cover by completing the registration form (below) and send it back with payment (credit card details) to:
SureFinity Insurance Brokers
PO Box 421
North Lakes QLD 4509
Competition Nights
Tuesday: Mixed 20's, Mixed all ages and Ladies

Wednesday: Men's 20's, Men's all ages

Victoria Park, Minto Road, Minto

Start date: Tuesday 2nd and Wednesday 3rd November 2021 (subject to COVID restrictions)
Please visit the website for game times – www.greaterwestoztag.com